NISMOPC HOME PAGE AUTOMOBILE STUFF LINKS
PlaceRacing Urethane Solid Motor Mounts

UPDATE:
The ES torque mount insert does not do anything and is a waste to put into the P10. It's too small for the stock mounting bracket and a bad idea. Personally, I can't believe Nissan Performance Magazine Online even suggested it. You are better off filling your old dog-bone torque mount with 3M Window Weld or buying an OEM one to replace the torn one.
I used the 3M Window Weld Super Fast Urethane. It works great!
Motor Mounts:
These are the stock motor mounts after I removed them from the car. You can see how the torque mount is shredded and the other mounts are showing signs of cracking and are dried out. This was at only 63,654 miles.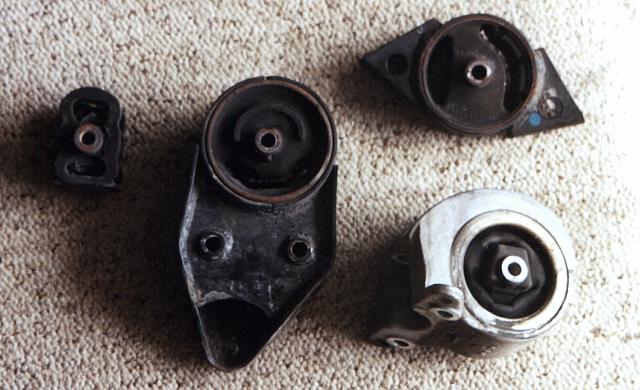 These are the Place Racing Mounts and Energy Suspension Inserts. See how the passenger side engine mount (lower right hand corner) center bolt hole protrudes. That had to be ground down on both sides because it was too long to fit in the stock mounting bracket.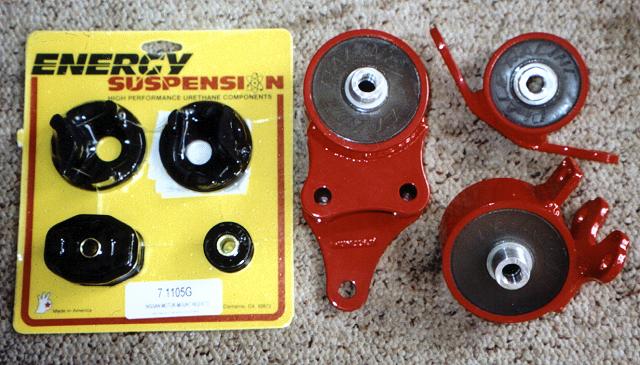 NOTE: The only ES insert that is useable from the 7.1105G insert kit is the 'dog-bone' torque mount insert (lower left hand corner). The other 3 are not useable on the G20.
Two issues:

1. The Passenger engine mount center bolt alumimum cylinder was way too long. I had to use a bench grinder and shave off approx. 1/8" off of one side and 1/4" off of the other side. I was not too happy about that, but luckily had a bench grinder to do the job quickly and cleanly.

2. The ES torque insert center bolt cylinder is too short since it is designed for the SE-R's and NX2000's. So I used 2 washers on each side to take up the space to be able to torque down the bolt properly.

Overall, shifting is much smoother, engine vibration is more predominant and slight buzzing from interior parts occurs at idle.
Return to NISMOPC HOME PAGE AUTOMOBILE STUFF LINKS